The Royalton Condominium - 801 Bay Street Toronto, Ontario M5S1Z1
Royaltron is a 18 Storey Boutique condominim located at north east corner of College and Bay Street. Close to Toronto hospitals, College subway, Eaton Centre, and financial district. Close to University of Toronto, and Ryerson University.
Developer : Diamante Development Corporation
No of storeys : 18
No of units : 137
Year completed : 2000
Condo Corporation: MTCC 1322
Address : 801 Bay Street, Toronto, M5S1Z1
t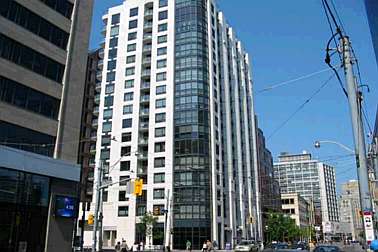 Amenities 801 Bay Street condominium : 24 Hour Concierge, Gym, Hot Tub, Sauna, Party / Meeting Room, Visitor Parking (only 2-3 spot only), Rooftop Deck BBQ, Guest Suites
The Royalton (801 Bay Street ) condominium (Condo) built in 2000. The Royalton has suites range from Studios, 1 bedroom, 1 one plus den, and 2 bedroom, and 2 bedroom plus dent. studios ar apprx. 575 sq.ft, and one bedroom from 651 to 800 sq. ft and two bedroom suites from 850 sq.ft to 1150 sq.ft. The building has underground parking.
801 Bay Street condos for sale : Price range:
Studios selling at price range of $290K - 325K and Rentals from: $1,400 - $1,500.
One Bed room apartments selling at a price range of: $370K - $500K, and Rentals from $1,800 - $2,100
Two Bed rooms apartments are selling at a price range of $400K - $700K and Rentals from: $2300 - $3,000