88 SCOTT STREET TORONTO, ON M5J
88 SCOTT ST CONDOMINIUM
The New Condo development at 88 Scott St is located at the North west corner of Scott Street and Wellington Street. Very close to the financial district, Lawrence market Location Map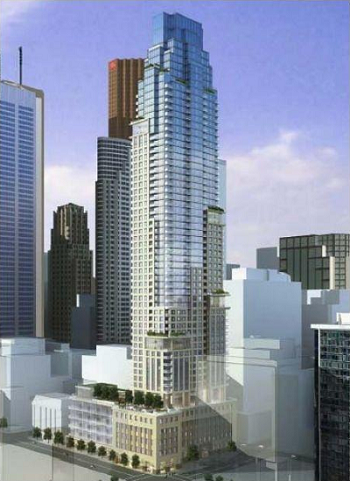 88 Scott is a 58-storey condominium Tower, deesigned by Page + Steele/IBI Group Architects. 88 Scott will have a five-storey mixed-use podium that incorporates the reconstructed facade of a 1951 building that currently sits on the property. 88 Scott's podium will house 50,000 sq. ft. of office space and 8,000 sq. ft. of retail space along Wellington St, with a portion wrapping around the corner and up Scott Street.
Delveloper : Concert Properties
No of Storeys : 58
No of units : 512
Parking:
88 Scott St Suite size : studio, 1, 2, & 3 bed room units from 330 sq.ft to 1675 sq.ft and Penthouses from 2600-4000 sq.ft
88 Scott Street condos for sale : Price range : $300k - $800k (studio -2 br units)
Higher floors upto $1.6M.
Parking : $45K
Lockers : from $
Occupancy: 2016
88 Scott St amenities were spread in three levels. On the sixth floor, atop the podium, another amenity space will include a gym, yoga and spin studio, seamless edge pool, sauna and steam room. There will be a lounge with kitchen, bar and fireplace; a billiards room with wet bar and a screening room. The rooftop amenity area also will have an outdoor terrace with areas for barbecuing, dining and exercising.
On floors 46 & 47, a split-level "Sky Lounge" will include a party room, bar, caterer kitchen and private dining room.
For Floor Plan and Price List, please send an email to puru@downtownrealty.ca
88 Scott Street Floor Plans