AURA at COLLEGE PARK: Aura located at the North West corner of Yonge and Gerrard St. ( 386 388 Yonge Sreet, Toronto ). Aura is the tallest condominium built in Toronto. Aura is a 78 storey condominium tower standing 273 meters in height will boast 1,340, 000 sq.ft. of space. 1,150, 000 million will be devoted exclusively to residential space and 190,000 sq.ft. will be prime retail space in the podium. The result is Canada's tallest residential tower consisting of 985 residential suites Indoor access to College Park Shops, the subway, and future connection to the underground Path System.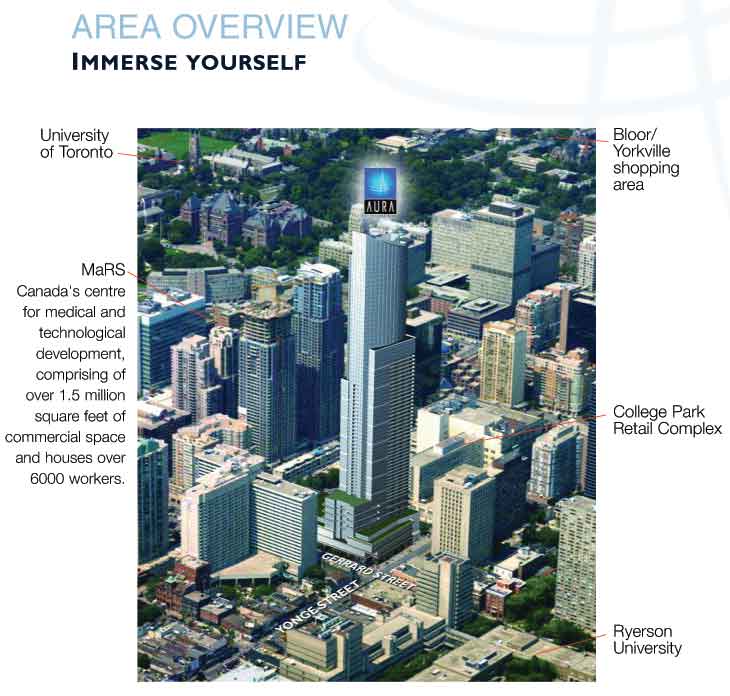 Developer: Canderel Stoneridge
Architects : Graziani + Corazza Architects
No of storeys : 78 floors
Total number of units : 985
Amenities in Aura : Framed by greenery, this beautifully landscaped 5th floor rooftop is dotted with sleek furniture groupings and cabana-like retreats, the ideal spot for dining al fresco, animated conversations or romantic trysts. Enjoy a leisurely glass of wine with friends in the relaxing fireside lounge which features a green wall and extraordinary water feature.
Spectacular 40,000 square foot facility that boasts the best work-out view in the city. The entire fourth floor of Aura is dedicated to your health and well-being. You'll find all the most advanced h-tech equipment and plenty of it
Hard Candy Fitness on 4th floor - High End, renowned Gym Club (40,000 sf) •Billiard room, Cyber-lounge , A fabulous outdoor BBQ terrace, Elegant Party Room with a fully equipped kitchen, private dining area, Guest Suites, 24/7 Concierge
Suite Mix at Aura
AURA - TOWER SUITES 5-55 Floor
one, two, three bed rooms. 518 sq.ft - 1319 sq.ft
Price range: $300K - over 1 Million Dollars
Tower suite features
AURA - EXECUTIVE SUITES:
56-71 Floors
All 2 bed room suites from 786 aq.ft - 1393 sq.ft
Executive suite features
Penthouse units are available for sale.
AURA Penthouse Floor Plan
72-73 Floor Penthouse 2,961 sq.ft South East View, 10 ft ceiling
72-73 Floor Penthouse 2,335 sq.ft North West View
Floor Plan of Aura Penthouse 76-77 Floor
01 - 2R - NE -
02 - 2Y - E - 1040 sq.ft
03 - 2AA - SE - 1835 sq.ft
04 - 2 U - SW -
05 - 2X - W - 1040 sq.ft
06 - 2Z - NW - 900 sq.ft
79th Floor Penthouse Suite Features: The ceiling height is approx 12 feet except in the areas with bulkheads. All smooth ceilings to be smooth and painted white. 7" Crown mouldings in foyer, kitchen, power room, 7'6" Solid core contemporary style swing interior doors with designer metal lever hardware.
Floor Plan - Aura Penthouse on 79th Floor - 12 ft ceiling height
Unit 7902 - 2201 sq.ft - North East View
Unit 7907 - 2961 sq.ft - South East View
Unit 7916 - 2335 sq.ft - North West View
Unit 7910 - 3055 sq.ft - South West View
Floor Plans:
Executive Suites 56-71 Floors
2 bed room 786 sq.ft Suite 2a3rev
2 bed room 1090 sq.ft, Suite 2K
2 bed room 1149 sq.ft, suite 2l+d
2 bed room 1252 sq.ft, suite 2q+d
2 bed room 1290 sq.ft, suite 2m
2 bed room 1297 sq.ft, suite 2n+d
3 bed room 1319 sq.ft, suite 2d3
3 bed room 1393 sq.ft, suite 3e
Tower Suites Floor plan

Occupancy : 2014-15
Floor Plans:
Executive Suites 56-71 Floors
2 bed room 786 sq.ft Suite 2a3rev
2 bed room 1090 sq.ft, Suite 2K
2 bed room 1149 sq.ft, suite 2l+d
2 bed room 1252 sq.ft, suite 2q+d
2 bed room 1290 sq.ft, suite 2m
2 bed room 1297 sq.ft, suite 2n+d
3 bed room 1319 sq.ft, suite 2d3
3 bed room 1393 sq.ft, suite 3e
Tower Suites Floor plan