Lofts are a type of condominium that originated when Warehouses, Office buildings, or Factories were converted into loft living spaces. The characteristics you might see in lofts are very high ceilings (10 - 20-foot heigh), exposed pipes and ducts in the ceiling, a great room floor plan, floor to ceiling windows, exposed interior brick, stained cement floors, wood or metal stairs and handrails, stainless steel kitchen appliances, and modern/contemporary furnishings. The most lofts are located in downtown Toronto
.
Lofts East of Yonge St
Merchandise Lofts - 155 Dalhousie St
Absolute Lofts - 77 Lombard St E
Liberty Lofts - 383 Adelaide St E
Imperial Lofts - 90 Sherbourne St
The Brewery - 90 Sumach Street
Lofts West of Yonge St
Candy Factory Loft - 993 Queen St W
Chocolate Factory Loft - 955 Queen St
Electra Lofts - 1029 King St W
DNA Lofts - 1005 King St W
Massey H. Lofts - 915 King St W
West 833 Loft - 833 King St W
Gotham Loft -781 King St W
Tecumseth Loft - 766 King St W
Westside Loft - 700 King St W
Abbsy Loft - 261 King St W
Camden Lofts - 29 Camden st
The Sylvia Loft - 50 Camden St
Toy Factory Lofts (new) -
District Lofts - 388 Richmond St W
Tip Toft Lofts - 637 Lakesore Blvd
Kensington Lofts - 160 Baldwin St



Massey Harris Lofts - 915 King Street W, Toronto, M6K3M2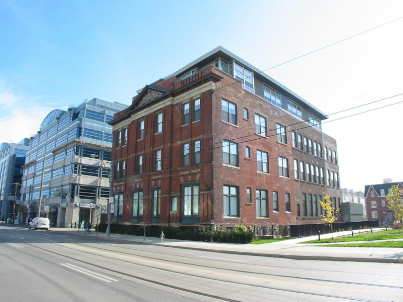 Historical Massey Harris Building conversion featuring 11 foot ceiling and vintage brick walls. Suites feature baths with all glass shower.
Suite mix: Studio and one bed room and one + one
Price range: $250K - 650K
If you are interested in buying, selling or renting any of the lofts, please feel free to call me.

Call Direct:
416-558-3538
Email: puru@downtownrealty.ca
P. Purushotham, Broker
RE/MAX Condos Plus Corp. Brokerage,
45 Harbour square, Toronto, M5J2H4