35 Balmuto Street, Toronto, Ontario M4Y1W4
The UPTOWN Residence
The UPTOWN Residences located in the heart of Bloor-Yorkville at 35 Balmuto Street, south west conrer of Bloor St West and Yonge st.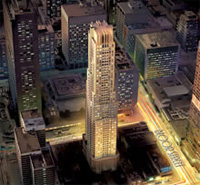 Developer : Pembarton Group
Height : 49 storeys of elegance
- Elaborate glass and pre-cast exterior featuring a granite entrance
- 284 Suites up to 2,300 sq.ft.
- Spacious terraces
- Suites with8', 9', 10' and 11' ceilings (7-42 floor :9 ft, 42-47floor :10ft, LPH & PH : 11 ft)
- Balconies or terraces with spectacular views of the neighbourhood, city and lak
- Granite entrance and gracious 2-storey lobby
- Steps to upscale shopping on Bloor St.

Amenities at The UPTOWN Residence ( 35 Balmuto st ) :The Uptown Club occupies the entire 6th floor.
24 Hour Concierge
Visitor Parking
State-of-the-art exercise room, yoga/aerobics room, Pilates area and steam rooms
Virtual Golf Room, Party room and Multi-Media Theatre Lounge
Superbly appointed Metropolitan Lounge for entertaining, with bar and kitchen
Terraced garden patio, overlooking vibrant Yorkville neighbourhood
Out door pool
Guest suites
Terraced garden patio
boardroom (located on the first floor adjucent to conceirge)

Pet Rule : Dogs exeeding 20 pounds are not allowed.
35 Balmuto St Condos for sale :
Price Range: A selection of luxurious suites remains on the upper floors, all with panoramic views from large balconies and/or terraces.
Priced from $400K to $2,142,900
Available in suite sizes from 500 to 2,110 sq. ft.
Occupany: 2011
35 Balumuto St Floor Plan
Lower level floor plans: 35 Balmuto
01-1 bed room
02- 1 Bed room
03- 1 Bed room
03-1 Bed room 23 Floor 1 bed room
04-1 Bed room
05 - 2 bed room

35 Balmuto Higher floor floor plans
THE BERGMAN 2T+D 2 BEDROOM + DEN 1,270
THE BERGMAN 2T+D-R 2 BEDROOM + DEN 1,270
THE BENNETT 2S+D-R 2 BEDROOM + DEN 1,316
THE OBERON 2M+D-R 2 BEDROOMS + DEN 1,365
THE GARBO 2P+D (1) 2 BEDROOM + LIBRARY 1,560
THE GARBO 2P+D (2) 2 BEDROOM + LIBRARY 1,560
THE FONTAINE 2U+D 2 BEDROOM + DEN 1,768
THE HAYWARD 2R+D 2 BEDROOMS + DEN 1,860
THE NORMAND 2Q+D 2 BEDROOM + LIBRARY 2,110
Features of 35 Balmuto Condo Suites
Conds on Balmuto Street